Student Council
Introduction to Student Council
Our college has Student Council whose members are all the students of our college. Through the Student Council activities, students can cultivate the spirit of autonomy, promote friendship among members, and create sound academic traditions. Student Council is run by the passion of students.
Organization Chart of Student Council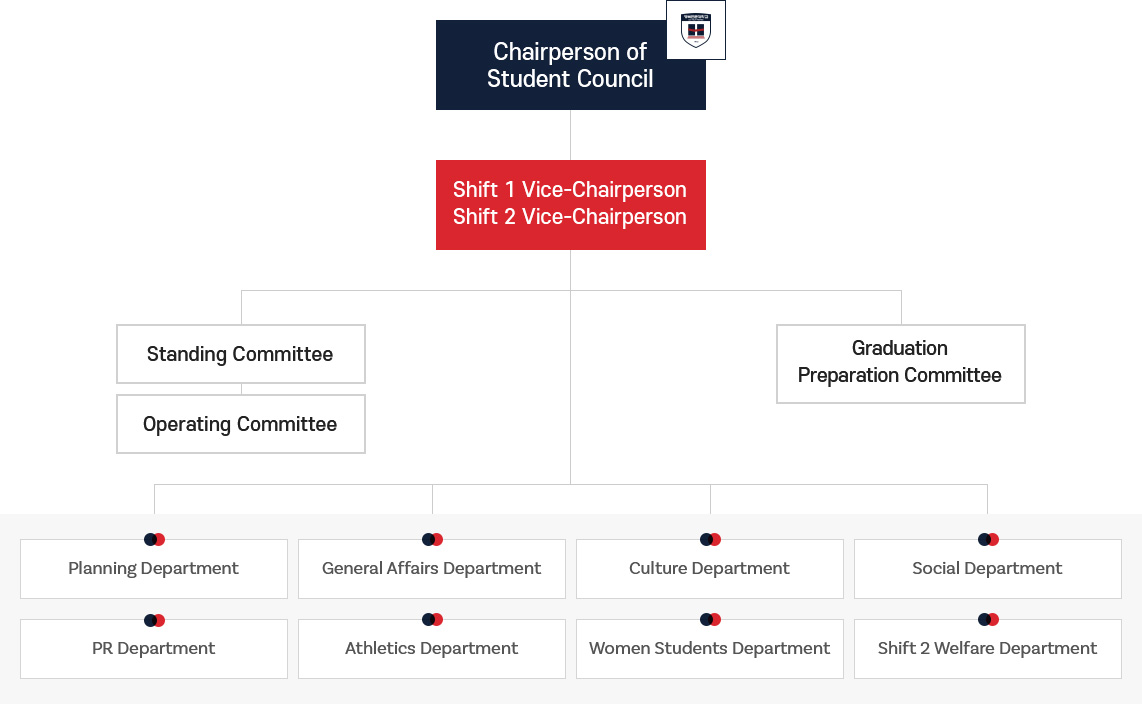 Planning Department

planning and budgeting for general projects of the Student Council

General Affairs Department

clerical work, accounting, and settlement of accounts of the Student Council

Culture Department

tasks related to cultural, academic, artistic, and general educational activities

Social Department

tasks related to community service activities and club activities

Athletics Department

tasks related to physical and mental disciplines and athletic activities

PR Department

tasks related to public relations of the College and the Student Council, training activities and establishment of school traditions

Women Students Department

tasks related to the intramural and extramural activities and friendship of women students

Part 2 Welfare Department

tasks related to the welfare and various service activities of students who belong to Shift 2.
02
Qualifications for eligible students
Students of good conduct who have command ability and leadership-
Students whose average score for the previous semester is 3.00 (B+) or higher
Students who have never received academic warning or punishment for violation of school regulations
Students who have never suffered a civil or criminal punishment
The chairperson and vice chairpersons of Student Council is elected in November every year unless the circumstances do not allow it. The chairperson of each department is elected according to the department schedule after the election of the chairperson of Student Council.